[English letter to US National Institutes of Health, UK National Institute for Health Research]
«A Guide to Minimal Use of Neuroleptics: Why and How by Volkmar Aderhold, MD and Peter Stastny, MD, June 2015
Rethinking Antipsychotics(pdf) video Robert Whitaker, February 2017
Åpent brev til
Npf, TIPS, NORMENT (Norsk senter for forskning på mentale lidelser) UiO, OUS Seksjon for behandlingsforskning
Kopi: Ingrid Melle, Jan Olav Johannessen ansvarlig for psykoseretningslinjene, Akuttpsykiatrikonferansen, Helsedirektoratet, Folkehelseinstitutt
«Treatment as usual» falsifisert. Forslag å gjennomføre studier for å finne ut hvorfor Open Dialogue oppnår så mye bedre resultater
Nåværende retningslinjer anbefaler tilbud av nevroleptika for symptomlette til alle pasienter. Men fokus skifter fra symptomlette til recovery som får stadig mer vekt. Bergström et al. 2018 falsifiserer/motbeviser at standard behandling («treatment as usual») er best. Studier for å identifisere bidraget av elementer av alternativer som oppnår bedre behandlingsresultater foreslåes.
Nevroleptika
Nevroleptika brukes til symptomlette (Leucht et al 2009: NNT=6) og til forebygging av tilbakefall (Leucht et al 2012: NNT=3) med evidens i begynnelsen for et mindretall av pasienter. Mangler antipsykotikanaive pasienter, derfor seponeringseffekt. Det er 50,4 % som er i jobb i placebogruppen men i vedlikeholdsgruppen er det 48,4 %.. Det finnes ingen evidens at antipsykotika fremmer "psychosocial functioning, professional functioning, and quality of life" (Buchanan et al 2009 PORT Treatment Recommendations). Bjornestad, Larsen et al. 2017 innrømmer at evidens for langtids vedlikeholds medisinering mangler: "Due to the lacking long-term evidence base (Sohler et al. 2016) ..." Mange pasienter opplever bivirkninger som sedasjon, metabolske (f. eks. vektøkning, diabetes), motoriske bivirkninger (f. eks. parkinsonisme, kriblende uro), tardive dyskinesier og intellektuell og emosjonell hemning. Den nåværende bruk av nevroleptika er blitt kritisert (4,6,7). Studier viser at lavere doser for færre pasienter over kortere tider er fordelaktig.
Recovery
Recovery er brukt i flere betydninger og har oppnådd øket oppmerksomhet og er blitt mainstream. Regjeringens strategi for god psykisk helse (2017–2022) «Mestre hele livet» bygger på WHO's Action Plan 2013-2020, The European Mental Health Action Plan 2013-2020 og EU JOINT ACTION 2016. Både United States, Canada, New Zealand, Australia, UK og Irland bygger sine nasjionale strategier på recovery. Opptrappingplanen for psykisk helse nevner brukerens/pasientens «behov som utgangspunkt», å «mestre av eget liv», «vellykket tilbakeføring til arbeidslivet» og «å inngå i en sosial sammenheng med familie og venner» (Ottar Ness 2015, pdf). Recovery rater gikk ned: «17.7% in studies between 1941 and 1955, 16.9% in 1956–1975, 9.9% in 1976–1995, and 6.0% in studies after 1996» ifølge Jaaskelainen et al. 2013. Open dialogue firedobler recovery, reduserer schizophreni per år til en tiendel og uføretrygd/sykdom il en dredel i naturalistiske studier (3,5). Evidens for Open dialogue har blitt kritisert å være av lav kvalitet, og RTC (randomized controlled trials) ville være fordelaktig for å komme til sikre konlusjoner.
Falsifikasjon av Treatment as usual
Tomi Bergström, Jaakko Seikkula et al. 2018 sammenlikner alle 108 Open dialogue pasienter med alle 1763 FEP pasienter i Finland over et tidsrom av 19 år. Open dialogue (OD) bruker nevroleptika for 20% av pasientene i begynnelsen, standard behandling (CG control group) 70%. 97,3 % av CG gruppen får nevroleptika på et eller annet tidspunkt. Ved avslutning bruker med OD 36% av pasientene nevroleptika for CG er det 81%. Uføretrygding, reinnleggelse og pasienter under behandling halveres med OD. Standardiserte dødstall (SMR) synker fra 3,4 til 2,9 med OD (1). Dette reflekterer bedre recovery.
Denne register studie reflekterer virkeligheten/fakta om Finland på nasjonal nivå. Treatment as usual er falsifisert dvs. motbevist som beste behandling. RCTs kunne gi informasjon hvilke av Open dialogues tilnærminger f. eks. reduksjon av antipsychotisk medisinering, hjelp innen 24 timer, sosiel netverk perspektiv og dialog etc. bidrar til de gode behandlingsresultater.
Studier for å finne ut hvorfor Open dialogue fremmer recovery
Vitenskapelige studier kan bare forklare virkeligheten, ikke motbevise. Respekt for virkeligheten kan betydelig forbedre pasientens behandling og helse. Derfor har jeg i 2018 bedt norske forskningsinstitusjoner om å gjøre videre studier: "Paradigm shift: Can Open dialogue achieve quadruple recovery rate, reduce schizophrenia per year to one tenth and disability allowance/sickness is reduced to one third?
The United Nations Special Rapporteur on the right to health Mr. Dainius Pūras has called for «World needs "revolution" in mental health care» to «enable a long overdue shift to a rights-based approach»."There is now unequivocal evidence of the failures of a system that relies too heavily on the biomedical model of mental health services, including the front-line and excessive use of psychotropic medicines, and yet these models persist" Mr. Dainius Pūras said.
Styrking av psykiateres respekt for virkeligheten
For å kunne gjøre studiene mulig psykiaternes bør respekt for virkeligheten styrkes. Se kommentarer til psykiatere refleksjoner om medisinfri program: https://www.researchgate.net/publication/330738021_Psychiatrists'_reflections_on_a_medication-free_program_for_patients_with_psychosis/comments
Open dialogue reduserer medisinbruken til mindre enn halvparten sammenliknet med standardbehendling. Medisinfri behandling (2) omfatter 60 senger av 4000 senger i Norge. Påvirkningen på nasjonalt nivå er veldig lite. Få flere pasienter får behandling medisinfri behandling.
Rindal, 6.2.2019
Oppfølging:
Oppfølging: (short URL: https://bit.ly/2Eo1osN )
Referanser: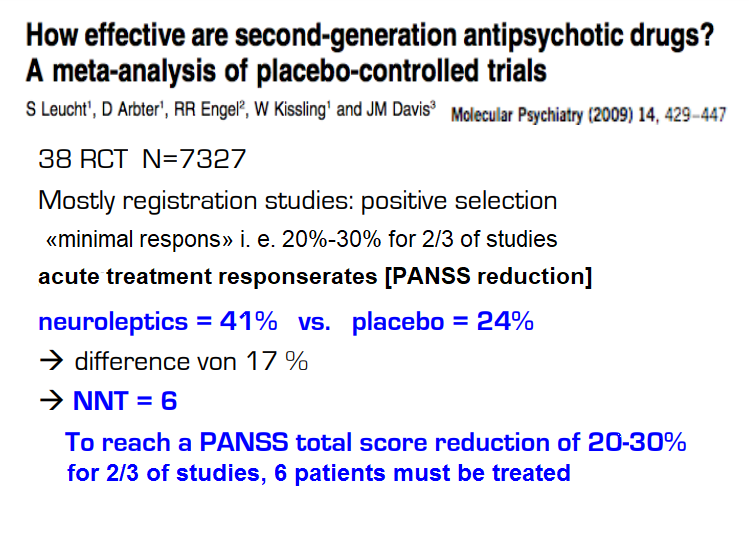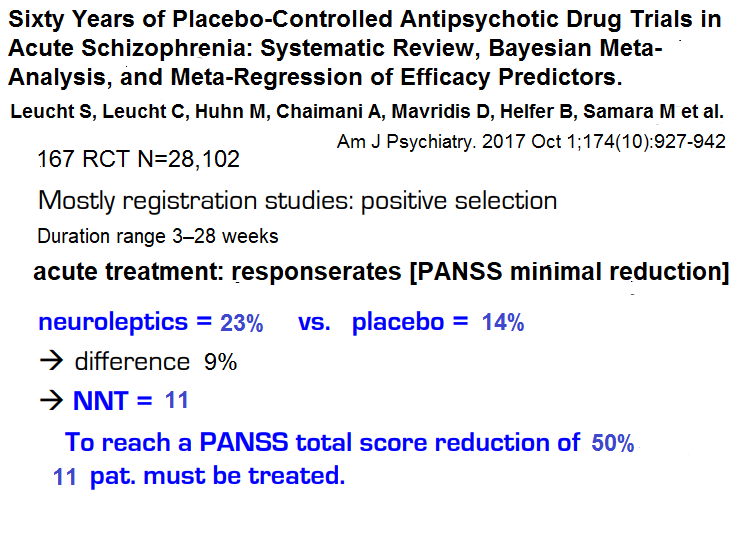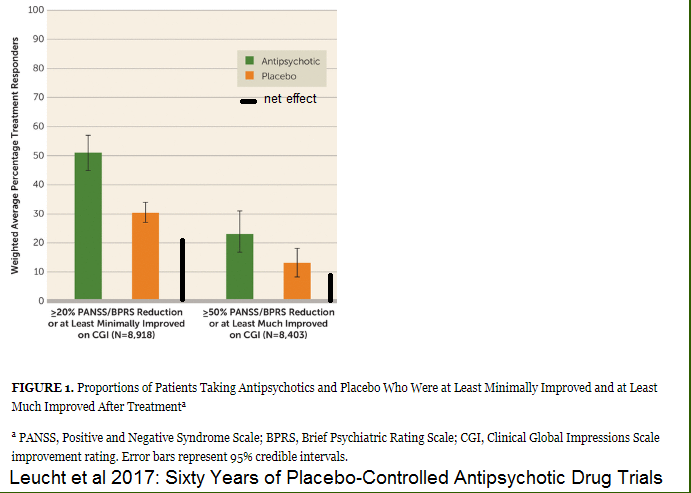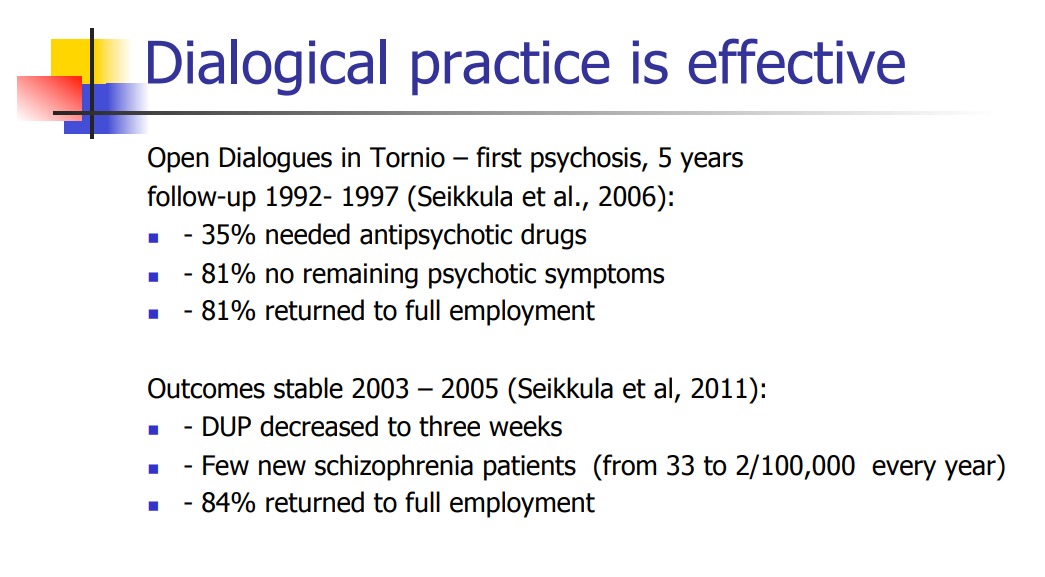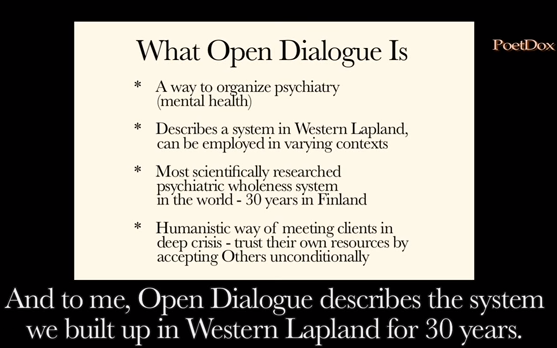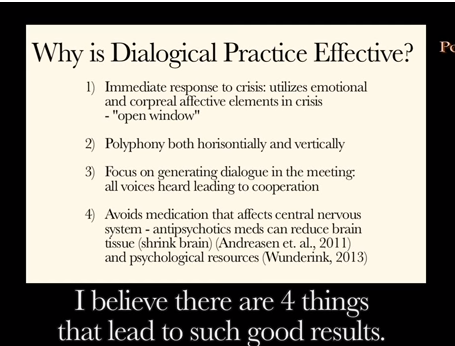 Results of long-term use of antipsychotic drugs: